Mission watch company: Our watches
The Scout is in GQ!
In the July 2021 GQ Magazine, the Scout was included in the article "The Best Field Watches Under $500 Are Ready For Anything."


Read about the Scout in GQ Magazine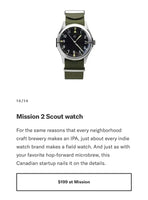 THE STORY OF MISSION WATCH COMPANY
Peter and Aron had really never considered creating their own watches until a watch shopping trip in 2017. One afternoon, at a famous vintage watch shop, Peter spoke at length about why he was so passionate about certain watch brands and models, what they had meant in his life, and how he shared this passion with his father. As they spent a couple of hours trying watches and eventually acquiring one each, it dawned on both of them that they would love to make a really high-quality watch that would give not just them but many people the feeling of having something truly exceptional on their wrist.
READ MORE
WHAT'S YOUR MISSION?
Our Mission is to build watches people love. Not just any watches, but watches that are meaningful and memorable. Watches that are comparable in build, fit, feel, and finish to significantly more expensive watches. That will always be our Mission. 
So what's your mission?
#WHATSYOURMISSION
"My Mission 1 is an incredibly versatile watch. I have received a bunch of compliments on it. It's well-made and feels solid and substantial on my wrist without feeling bulky at all. Just delighted with the watch and at the price point it's fantastic value."



Stuart, Toronto 
"The Mission 1 is, for me, the start of an adventure. As a watch collector, I have been deeply inspired by the founders' vision. I admire their design aesthetic and the versatility of the watch they've created. But what really hooked me is their ability to turn their dream into a reality. To me, that is what the Mission 1 is all about. It is an act of creation, and as much as I might swoon over its raised, florescent numerals, or it's perfect proportions and how well it sits on my wrist, it is the spirit in which it was conceived and realised that has captured my imagination."



Peter, Melbourne
"For me, my Mission Scout is the perfect watch do do anything and go anywhere. I wear it to ski and later the same day I might change the strap to dress it up when I go out with friends. It's light and solid and I never want to leave my flat without it on!"

Saskia, Stockholm